The Gentlemen of Long Pork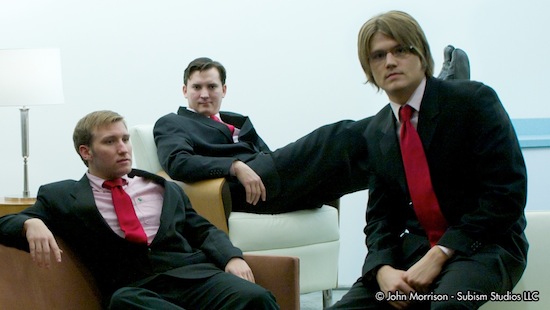 Long Pork is a comedy ensemble comprised of (pictured above from left to right) Charley Carroll, Lee Russell, and Zoran Gvojic. Long Pork's goal is simple: to create high-energy, landscapes of ultra-violent comic joy: They do so by saying yes to every idea and branching out from there, unhindered by the rules of traditional sketch comedy. The Gentlemen of Long Pork have training from such great Chicago theaters as: The Second City Conservatory, i.O. Chicago, and The Annoyance Theater.
"… it took me time to come around to their way of thinking [but] stick with them, because the pleasures of their show, "Soda," are many. This feels like a complete experience. It's a strong group."
– Nina Metz, Chicago Tribune
"Like early Kids in the Hall, these are some weird, talented dudes."
– Ryan Hubbard, Chicago Reader
"I watch a tremendous amount of sketch comedy. I still find it hard to believe that Long Pork is such a young group. Their material is sharp and smart. Their style/form is very interesting and entertaining. I recommend this group."
-Brian Posen, The Chicago Sketch Comedy Festival / The Second City.
"Long Pork opened for Grandma June's Sewing Circle last summer and we were simply amazed. Wonderful performers doing great material in a style all their own. We knew right away that these guys are something special and we couldn't wait to share them with more people than we could cram into the theater for just two shows."
– Chris Bragg, Player's Ring West
Contact us
Lee Russell
long.pork@gmail.com
twitter.com/longpork
Bios

Charley Carroll is from Atlanta, GA. He holds a theatre degree from Valdosta State University in Georgia. After graduating he moved to Chicago to pursue improv comedy. Since that time, he has performed steadily at i.O. Chicago, The Annoyance Theater, The Playground, and on Lowcarbcomedy.com.
Twitter | Facebook
Zoran Gvojic is from Downers Grove, IL. After attending the Savannah College of Art and Design in Savannah, GA, he moved back to Chicago to take classes at The Second City, i.O. Chicago, and The Annoyance Theater.  He is the creator of Lowcarbcomedy.com, a site that has yielded many a viral video including Saw IV: You Ain't Saw Nothin' Yet.
Twitter | Facebook
Lee Russell is from Richardson, TX. He began seriously studying theater at Collin College and showed a flair for comedy. After being told by his professor that he would do well in the Chicago improv scene, he then moved and has since studied at The Second City and i.O. Chicago. He takes pride in having gathered the gentlemen who make up Long Pork. He has performed at The Playground Theater, i.O. Chicago, and The Apollo Theater Studio.
Twitter | Facebook